OFSTED are the government body that inspect and regulate all childcare settings. We are very proud that at our last inspection of the nursery we were judged as an 'Outstanding' Provider of Daycare.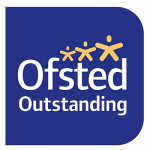 Children are happy and confident, and as a result, their behaviour is exemplary. Children are exceptionally engaged in their learning and play. Staff give the children time to respond to questions and opportunities to try to do activities for themselves, therefore, children become extremely independent learners. The children have the freedom to make
their own choices.
The manager and her staff create an exceptionally friendly and warm atmosphere, where children flourish and get off to a flying start. Staff have first-rate relationships with the children and their parents, showing interest in their home lives. Past pupils visit and give staff members hugs during drop-off and collection times, showing strong lasting bonds between staff and children.
Striving for outstanding always
We are constantly working together as a team to achieve excellent daycare, and welcome our next Ofsted visit. Through open communication with parents we are responsive to feedback and suggestions. We strive to ensure that Footprints Nursery is the very best there is to offer your child.
Please feel free to read though the Footprints 2019 report by directly on the Ofsted website.